One-Shot Image Checker | Focus-6500IA(TASCAL)
Overview

Pattern Matching

This is the image checker which inspects boards by comparing pre-registered reference image with captured image of inspected board.(Pattern Matching processing)

「Very easy」Quick compare mode

Quick compare mode without any programming .Everyone can start to inspect boards right now!

High quality focusing

User can select fine or rough of image per 0.6 square millimeters easily.

One-Shot

It is possible to acquire one shot image of inspected board which size is below W155X210mm as imaging range is wide. In case of W310XD210mm(Msize) board, the board image can be acquired as two shot images . It realized a significant reduction of total inspection cycle time for both acquired time and inspection time.
Inspection Contents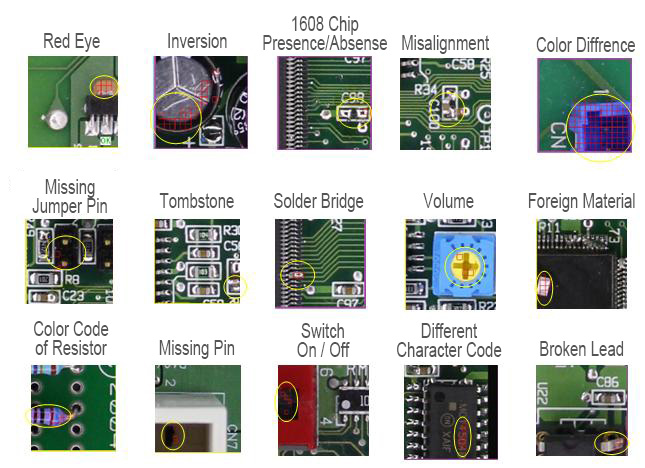 Advance AOM(Options)
 
Measure the offset of components
Measure both the length of components and distance between two components
Check characters
Check color code of resistance
Read barcodes
Offline software(Options)

This is a useful software which will be installed to your PC. In case you can't use machines in order to generate projects(programs) due to high production line volume, you can do on your PC without any machines.

The key point of project generation by offline software
"Although you want to generate new project, the machine is fully occupation for production."
Please save some board images which are acquired from the system into USB pen drive. Then, please transfer them to your PC that offline software is installed. Now, you can generate projects without your system. And it is recommended to acquire four or more board images in order to reduce fluctuation when you generate projects in offline software.
Specification
Program generation mode

Quick mode
(Quick Compare mode)
No need to generate program, operator just specify image division number and acceptable range
Advance mode
(Advance mode)
Individual detail inspection mode(Option)

Inspection contents

Presence/absence、polarity、shift、color difference
Check color code・color compare
Check character code・Square area measurement
Measure component shifting
Solder presence/absence
Solder presence/absence only
(it might be impossible up to solder shape
Foreign material inspection
Inspect whether there is foreign material or not

Function

Image quick compare function
Individual inspection item setting function
report generation function
Inspection image save function
Quick mode(Quick Compare mode)
Advance mode(Advance mode)
Board size

MIN:50mmX50mm(will acquire image over 2 times in case the size is over 158mm for flow direction)

Inspection chip capability

Over 1608 chip size
Character check over 2125 size chip
LSI: over 0.65mm pitch  others: Lead device

Image input

| | |
| --- | --- |
| Camera | Industrial camera |
| Resolution | 1.4 million pixels |
| Pixel | 50μm/pixel |
| Frame range | 158mmX212mm(Standard :2 points ) |
| Lightning | High intensity LED lightning |

PC

| | |
| --- | --- |
| CPU | Intel(R)Core?I7-870 processor |
| メモリ | 8GB |
| HDD | 500GB |
| OS | Windows(R)7 Professional(64bit) |

Outline dimension
In-line model: W650×D750×H1450
* As per customer request
* Without indicator light
* No air pressure
Power supply
AC100V〜240V Single phase below 50/60Hz 1KVA
* As per customer request
* No air pressure
Conveyor

Loading
Belt method
Board loading height
900mm±10mm
Width adjustment
Manual
System I/F
Conform to SEMEMA1.2
Auto width adjustment(Option)

Option

Offline editor・Inspection software
Other conveyors(Optional)

Environment

| | |
| --- | --- |
| Temperature | 10℃〜35℃ |
| Humidity | 80%( non-condensing) |