Function Test System | Focus-FX
Overview
This is general function test system. User can change board model easily by replacing a test fixture and changing inspection program.




We have variety of measurement instruments such as FX modules which can control commercial instruments.




It is possible to add required modules into existing units as they are connected by USB port. User can expand as per desired inspection specification.
[Reference] System configuration
Inspection application
Will design FX Builder/Tester or specified software as per requests.
 
Measurement instruments
FX300: Digital multi meter module
FX500: Digital I/O module
FX610: Multiplexer module
FX620: Relay module
FX700: Multi function test module
FX710: Multi source meter module
[Note] Existing measurement products can be integrated.

Power supply
Control ready-made stable power supply(Voltage・Current)
Communication
Compatible for RS232C,GPIB,SPI,CAN/LIN communication
Flash/ROM writing
process such as download, program and verify can be done automatically by using ready-made programmers
Traceability
Inspection date can be saved as CSV format.
Configuration Diagram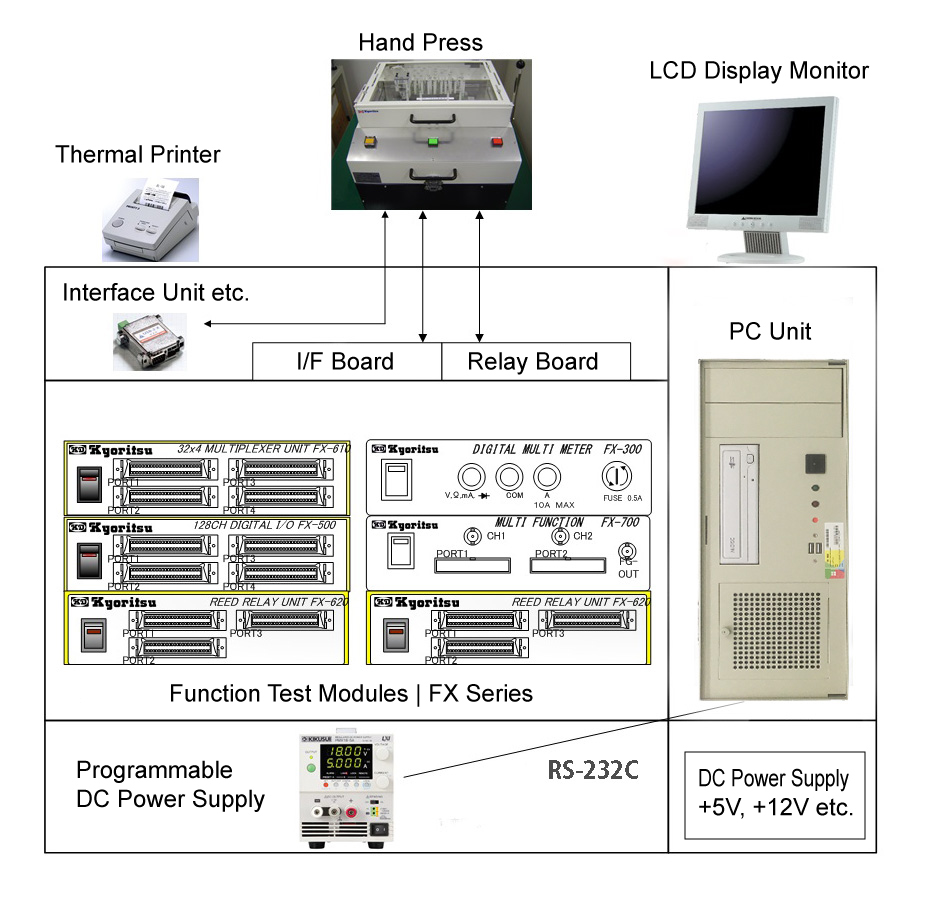 Function Test Programming Software FX-Builder
| | |
| --- | --- |
| | FX-Builder is a newly born software to create and run Test Program for Focus-FX series modules. Since it uses a table format for programming, it allows easy creation of Test Program even for a PC beginner with a little knowledge through training for basic operation method and ; in addition, it is so designed for enabling people other than a creator of the Test Program to understand operation flow of the program easily. |